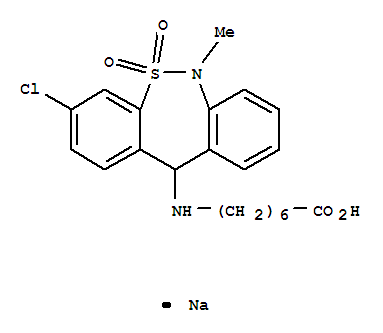 30123-17-2
Product Name:Tianeptine sodium salt
Molecular Formula:C21H24ClN2NaO4S
Purity:99%
Molecular Weight:
Inquiry
Product Details
Appearance:white to yellowish powder
High Quality High Purity 99% Tianeptine sodium salt 30123-17-2 In Medicine manufacturer, Good Supplier, in stock, In Bulk Supply
Molecular Formula:C21H24ClN2NaO4S
Molecular Weight:458.93
Appearance/Colour:white to yellowish powder
Melting Point:180 °C
Boiling Point:609.2 °C at 760 mmHg
Flash Point:322.2 °C
PSA:97.92000
Density:1.38 g/cm3
LogP:4.39460
99% Tianeptine sodium salt 30123-17-2 Usage
Tianeptine (TNP), a antidepressant drug, is an atypical antidepressant used in Europe to treat patients who respond poorly to selective serotonin reuptake inhibitors (SSRIs). Tianeptine hemisulfate monohydrate is an improved salt of Tianeptine. It is not hygroscopic so handling the powder is a lot easier. Tianeptine sodium is a selective serotonin reuptake enhancer and antidepressant receptor.
InChI:InChI=1/C21H25ClN2O4S.Na/c1-24-18-9-6-5-8-16(18)21(23-13-7-3-2-4-10-20(25)26)17-12-11-15(22)14-19(17)29(24,27)28;/h5-6,8-9,11-12,14,21,23H,2-4,7,10,13H2,1H3,(H,25,26);/q;+1
Tianeptine Sodium 30123-17-2 Relevant articles
In Vitro–In Vivo Correlation of Tianeptine Sodium Sustained-Release Dual-Layer Tablets
YJ Lee, JE Kim
Molecules 2022, 27(9), 2828
IVIVC was established according to the size of the tianeptine sodium granules, which is the purpose of this study, and was used to predict in vivo pharmacokinetics from the formulation composition. This approach may be useful for determining optimal formulation compositions to achieve the desired pharmacokinetics when developing new formulations.
Respiratory effects of the atypical tricyclic antidepressant tianeptine in human models of opioid-induced respiratory depression
Hyke Algera, M.D.; Rutger van der Schrier, M.D.; David Cavalla, Ph.D.; Monique van Velzen, Ph.D.; Margot Roozekrans, M.D., Ph.D.; Alison McMorn, Ph.D.; Michael Snape, Ph.D.; Joseph P. Horrigan, M.D.; Stuart Evans, M.A.; Bernard Kiernan, Ph.D.; Elise Sarton, M.D., Ph.D.; Erik Olofsen, Ph.D.; Marieke Niesters, M.D., Ph.D.; Albert Dahan, M.D., Ph.D.
Anesthesiology October 2022, Vol. 137, 446–458.
For studies 2a and 2b, a sterile tianeptine sodium intravenous formulation (sodium; 7-[(3-chloro-6-methyl-5,5-dioxo-11Hbenzo[c][2,1] benzothiazepin-11-yl)amino]heptanoate; 1 mg/ml) was developed by AMO Pharma Ltd. Tianeptine is a drug with two pKa values.