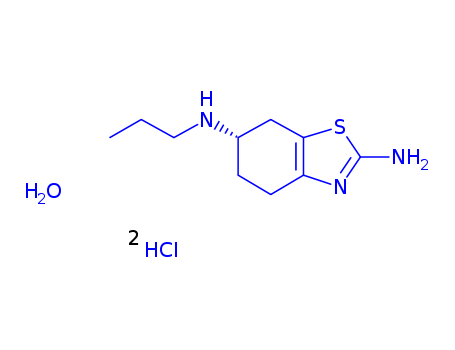 191217-81-9
Product Name:Pramipexole
Molecular Formula:C10H21Cl2N3OS
Purity:99%
Molecular Weight:302.268
Inquiry
Product Details
pd_meltingpoint:290 °C(dec.)
Appearance:gray white crystalline powder
Hot Sale, Top quality Pramipexole 191217-81-9, good supplier
Molecular Formula:C10H17N3S*2ClH*H2O
Molecular Weight:302.268
Appearance/Colour:gray white crystalline powder
Vapor Pressure:9.93E-11mmHg at 25°C
Melting Point:290 °C(dec.)
Boiling Point:378 °C at 760 mmHg
Flash Point:182.4 °C
PSA:88.41000
LogP:4.09400
Top quality Pramipexole 191217-81-9 Usage
White or almost white, crystalline powder. Pramipexole is a unique compound in its therapeutic potential. It is approved to treat signs and symptoms of idiopathic Parkinson's disease and moderate to severe symptoms of primary restless leg syndrome.
InChI:InChI=1/C10H17N3S.2ClH.H2O/c1-2-5-12-7-3-4-8-9(6-7)14-10(11)13-8;;;/h7,12H,2-6H2,1H3,(H2,11,13);2*1H;1H2
Pramipexole 191217-81-9 Relevant articles
Precise Dosing of Pramipexole for Low-Dosed Filament Production by Hot Melt Extrusion Applying Various Feeding Methods
Rebecca Chamberlain ,Hellen Windolf ,Simon Geissler ,Julian Quodbach and Jörg Breitkreutz
Pharmaceutics 2022, 14(1), 216
It was found that deviation from target pramipexole concentration occurred due to degradation products in bPMMA formulations. Additionally, material temperature above 120 °C led to the formation of the anhydrous form of pramipexole within the extruded filaments and need to be considered in the calculation of the recovered API.
Direct and sensitive electrochemical evaluation of pramipexole using graphitic carbon nitride (gCN) sensor
Yogesh M. Shanbhag ,Mahesh M. Shanbhag ,Shweta J. Malode ,S. Dhanalakshmi ,Kunal Mondal andNagaraj P. Shetti
Biosensors 2022, 12(8), 552
Pramipexole (PMXL) belongs to the benzothiazole class of aromatic compounds and is used in treating Parkinson's disease; however, overdosage leads to some abnormal effects that could trigger severe side effects.
Pramipexole 191217-81-9 Process route
106006-84-2

(S)?2?amino?6?propionamido?4,5,6,7?tetrahydrobenzothiazole

191217-81-9,908244-04-2

pramipexole dihydrochloride monohydrate
Conditions
Conditions
Yield

(S)?2?amino?6?propionamido?4,5,6,7?tetrahydrobenzothiazole;

With

sodium tetrahydroborate; sulfuric acid;

In

tetrahydrofuran;

at 10 ℃; for 2h;

With

hydrogenchloride;

Reagent/catalyst

;

97.6%
104632-26-0

pramipexole

191217-81-9,908244-04-2

pramipexole dihydrochloride monohydrate
Conditions
Conditions
Yield

With

hydrogenchloride; water;

In

isopropyl alcohol;

at 20 ℃; for 3h;

Product distribution / selectivity

;

90%

With

hydrogenchloride; water;

In

ethanol;

at 25 - 40 ℃;
191217-81-9 Upstream products
104632-26-0

pramipexole

943319-02-6

2-amino-6-propylamino-4,5,6,7-tetrahydrobenzothiazole p-toluenesulfonic acid

104632-25-9

pramipexole dihydrochloride

106006-84-2

(S)?2?amino?6?propionamido?4,5,6,7?tetrahydrobenzothiazole