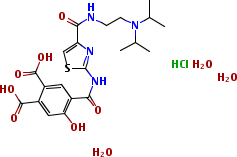 773092-05-0
Product Name:Acotiamide HCl
Molecular Formula:C21H33N4O10ClS
Purity:99%
Molecular Weight:
Inquiry
Product Details
Acotiamide HCl oxytocin trader, Good Supplier In China, 773092-05-0 for sale
Molecular Formula:C21H33N4O10ClS
Molecular Weight:569.02682
PSA:175.93000
LogP:4.53470
773092-05-0 Usage
Acotiamide HCl is the hydrochloride salt form of acotiamide, a prokinetic agent with gastrointestinal (GI) motility-enhancing activity, which belongs to a class of drugs called 'gastroprokinetics' primarily used in the treatment of functional dyspepsia (indigestion). A synthetic route to acotiamide that employs pyridine hydrochloride to selectively cleave a 2-substituted methyl ether from a 2,4,5-trimethoxy benzamide intermediate, as a key step, has been reported. Acofide Trihydrate is a gastrointestinal prokinectic agent used in the treatment of functional malnutrition. A tablet for the treatment of functional dyspepsia.
Brand name
Acofide
Synthesis
Commercial 3,4,5-trimethoxybenzoic acid was first converted to the corresponding acid chloride, which was isolated by co-distillation with hexane. In refluxing dichloroethane (DCE), the acid chloride was coupled with the commercially available thiazole amine to give the desired amidothiazole in 89% yield. From this intermediate, amide linkage, selective demethylation of the 2-methoxy group, salt formation, and recrystallization were accomplished in the following sequence: the thiazole ester was reacted with N,N-diisopropyl ethylenediamine in DMA at elevated temperatures. Upon cooling, the mixture was dissolved in n-butanol and washed with aqueous sodium hydroxide. Subsequent treatment with HCl gas in isopropanol gave the corresponding HCl salt as crystals that could be collected by filtration. The product obtained was further crystallized from 4:1 isopropanol and water to give the desired product acotimide (I) as the hydrochloride trihydrate in 71% yield.
773092-05-0 Relevant articles
Method for preparing acotiamide hydrochloride
-
, CN103387552A
The invention discloses a method for preparing a compound of formula (5). The method comprises the following steps: 1, reacting a compound of formula (2) with triphosgene, diphosgene or phosgene in a non-polar solvent in the presence of an organic alkali to obtain a product, reacting the obtained product with a compound of formula (3) to obtain a compound of formula (1); and 2, reacting the compound of formula (1) with a compound of formula (6) in 1,4-dioxane to obtain a substance, reacting the substance with HCl to form a salt which is the compound of formula (5), wherein R in the compound of formula (3) and the compound of formula (5) is a methyl group or an ethyl group.
Comparation of Three Quantitative Methods for Acotiamide Hydrochloride Hydrate as the Reference Substance
HE Jingjing,H Pan,Z Wang,J Wei
, China National Knowledge Internet 2017
The paper gave a way to assure the determination accuracy of acotiamide hydrochloride hydrate as the reference substance and provided some references for the evaluation of reference materials which is not officially available.
Application and synthesis of thiazole ring in clinically approved drugs
Zhen-Xi Niu a, Ya-Tao Wang b d, Sheng-Nan Zhang a, Yan Li a, Xiao-Bing Chen c, Sai-Qi Wang c, Hong-Min Liu d
,European Journal of Medicinal Chemistry (2023)
This review aims to outline the applications and synthetic routes of some representative thiazole-containing drugs approved in the clinic, which may guide medicinal researchers to rationally design more effective thiazole-containing drug candidates.