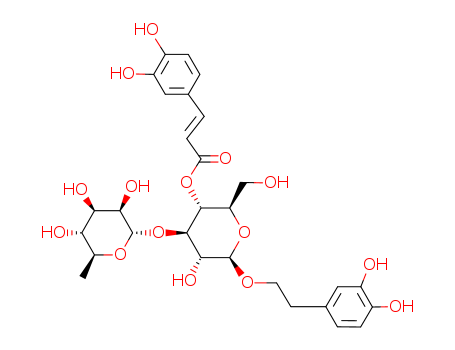 61276-17-3
Product Name:Acteoside/Verbascoside
Molecular Formula:C29H36O15
Purity:99%
Molecular Weight:
Inquiry
Product Details
Shanghai Upbio Tech Co.,Ltd is a quality supplier of Verbascoside. Our main goal is customer satisfaction. Contact us to negotiate the Competitive Price for your business on High Quality, High Purity Verbascoside 61276-17-3 Powder.
Plant Extract Verbascoside 61276-17-3 Powder in Medicine Export, In Stock, Fast Delivery
Molecular Formula:C29H36O15
Molecular Weight:624.596
Vapor Pressure:0mmHg at 25°C
Melting Point:232℃
Refractive Index:1.689
Boiling Point:908.8 °C at 760 mmHg
PKA:9.31±0.10(Predicted)
Flash Point:294.7 °C
PSA:245.29000
Density:1.6 g/cm3
LogP:-1.01590
Acteoside/Verbascoside 61276-17-3 Usage
Acteoside, also known as verbascoside, one of the main active phenylethanoid glycosides from Cistanche deserticola, is a common compound found in many important medicinal plants including the Chinese herb Cistanche deserticola Y. C. Ma, which is used for its neuroprotective and memory enhancement properties. It was isolated as an analgesic principle from Cedron (leaves and stem of Lippia triphylla (L'HER) O. KUNTZE; Verbenaceae), a Peruvian medicinal plant, by activity-guided separation.
Chemical Properties
White solid
InChI:InChI=1/C29H36O15/c1-13-22(36)23(37)24(38)29(41-13)44-27-25(39)28(40-9-8-15-3-6-17(32)19(34)11-15)42-20(12-30)26(27)43-21(35)7-4-14-2-5-16(31)18(33)10-14/h2-7,10-11,13,20,22-34,36-39H,8-9,12H2,1H3/b7-4+/t13-,20+,22-,23+,24+,25+,26+,27+,28+,29-/m0/s1
61276-17-3 Relevant articles
Acteoside palliates D-galactose induced cognitive impairment by regulating intestinal homeostasis
Maiquan Li , Mingzhi Zhu , Wei Quan , Weisu Huang , Xia Liu , Can Zhang , Baiyi Lu , Xing Xiao , Zhonghua Liu
Food Chemistry Volume 421, 30 September 2023, 135978
In this study, acteoside was confirmed to palliate cognitive impairment in d-galactose induced aging mice. Antibiotic treatment was conducted to confirm the regulatory effect of acteoside on gut microbiota in palliating cognitive impairment.
Verbascoside exerts an anti-atherosclerotic effect by regulating liver glycerophospholipid metabolism
Peng Lei , Jialin Lü , Tie Yao , Peng Zhang , Xin Chai , Yuefei Wang , Miaomiao Jiang
Food Science and Human Wellness Volume 12, Issue 6, November 2023, Pages 2314-2323
Verbascoside, abundant in olive mill wastewater, is a phenylethanolic glycoside with a wide range of pharmacological activities. Our study provided a broader application prospect for verbascoside and a theoretical basis for the search for potential anti-atherosclerotic prodrugs from food industry byproducts and medicinal plants.
61276-17-3 Process route
253790-76-0

3,4-di(benzyloxy)phenethyl 3-O-(α-L-rhamnopyranosyl)-4-O-(3,4-di-O-benzylcaffeoyl)-β-D-glucopyranoside

61276-17-3,97747-56-3,138604-99-6,145306-71-4

Acteoside
Conditions
Conditions
Yield

With

cyclohexa-1,4-diene;

palladium on activated charcoal;

In

ethanol; N,N-dimethyl-formamide;

at 40 ℃; for 10h;

44%
2-[3,4-bis(tert-butyldimethylsilyloxy)phenyl]ethyl 2,3,4-tris-O-triethylsilyl-α-L-rhamnopyranosyl(1→3)-2,6-di-O-triethylsilyl-4-O-(E)-3,4-bis(tert-butyldimethylsilyl)-caffeoyl-β-D-glucopyranoside

61276-17-3,97747-56-3,138604-99-6,145306-71-4

Acteoside
Conditions
Conditions
Yield

With

tetrabutyl ammonium fluoride; acetic acid;

In

tetrahydrofuran;

at 20 ℃; for 2h;

87%
61276-17-3 Upstream products
94130-58-2

Arenarioside

131903-54-3

Lavandulifolioside

143617-02-1

2-(3,4-dihydroxyphenyl)ethyl-O-β-D-galactopyranosyl-(1->2)-α-L-rhamnopyranosyl-(1->3)-(4-O-trans-caffeoyl)-β-D-glucopyranoside

253790-76-0

3,4-di(benzyloxy)phenethyl 3-O-(α-L-rhamnopyranosyl)-4-O-(3,4-di-O-benzylcaffeoyl)-β-D-glucopyranoside
61276-17-3 Downstream products
90985-64-1

deacylverbascoside dimethyl ether

64142-09-2

acteoside tetramethyl ether

84744-28-5

calceolarioside A

61303-13-7

Isoacteoside