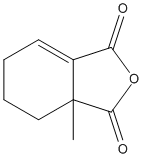 11070-44-3
Product Name:Methyltetrahydrophthalic anhydride
Molecular Formula:C9H10O3
Purity:99%
Molecular Weight:
Inquiry
Product Details
Reliable quality Methyltetrahydrophthalic anhydride 11070-44-3 global trade, in bulk supply
Molecular Formula:C9H10O3
Molecular Weight:166.18
Vapor Pressure:0.00184mmHg at 25°C
Refractive Index:1.53
Boiling Point:306.7 °C at 760 mmHg
Flash Point:145.3 °C
PSA:43.37000
Density:1.23 g/cm3
LogP:0.89820
MTHPA 11070-44-3 Usage
Methyltetrahydrophthalic anhydride is a cyclic dicarboxylic anhydride that is the cyclic anhydride of methyltetrahydrophthalic acid. Methyltetrahydrophthalic Anhydride (abbreviation:MTHPA) has been used in the curing agents for epoxy resins, solvent-free paints,laminated boards, epoxy adhesives and so on. It is used in preparation method of conductive adhesive.
Flammability and Explosibility
Nonflammable
InChI:InChI=1/C9H10O3/c1-9-5-3-2-4-6(9)7(10)12-8(9)11/h3,5-6H,2,4H2,1H3
11070-44-3 Relevant articles
The significance of specific IgG4 antibodies to methyltetrahydrophthalic anhydride in occupationally exposed subjects.
Yokota K, Yamaguchi K, Takeshita T, Morimoto K
Clinical and Experimental Allergy : Journal of the British Society for Allergy and Clinical Immunology, 01 Jun 1998, 28(6):694-701
A population of 148 workers from two condenser plants (A and B) using epoxy resin with methyltetrahydrophthalic anhydride (MTHPA) was studied to evaluate the significance of MTHPA-specific IgG4 antibody.
Synthesis and characterization of methyltetrahydrophthalic anhydride esterified corn starch by wet method
Luo, Ting ; Yang, Chengdong ; Zhang, Kang ; Lin, Yi ; Cheng, Fei ; Zhou, Mi ; Zhu, Puxin
Materials Express, Volume 11, Number 7, July 2021, pp. 1223-1230(8)
Methyltetrahydrophthalic anhydride (MeTHPA), an alicyclic anhydride, was used to synthesize esterified corn starch (CS) with different degrees of substitution (DS) by a wet method.