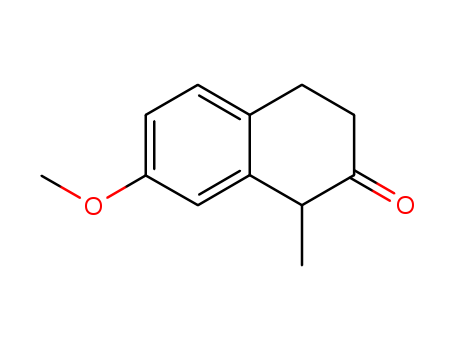 1204-23-5
Product Name:2(1H)-Naphthalenone, 3,4-dihydro-7-methoxy-1-methyl-
Molecular Formula:C12H14O2
Purity:99%
Molecular Weight:
Inquiry
Product Details
1204-23-5 for sale, reasonable price 7-Methoxy-1-methyl-2-tetralone trader
Molecular Formula:C12H14O2
Molecular Weight:190.242
Boiling Point:125-126 °C(Press: 0.8 Torr)
PSA:26.30000
Density:1.076±0.06 g/cm3(Predicted)
LogP:2.31400
1204-23-5 Usage
Uses
7-Methoxy-1-methyl-2-tetralone is a reagent that is used in the synthesis of dezocine (D299800), which is an opioid analgesic that is related to Pentazocine (P274300).
1204-23-5 Relevant articles
PHARMACEUTICALLY ACCEPTABLE SALTS OF BENZODICYCLOALKANE DERIVATIVE, POLYMORPHIC SUBSTANCE THEREOF, AND APPLICATION THEREOF
-
Paragraph 0211; 0215; 0228, (2021/04/02)
The present invention provides a pharmaceutically acceptable salt of benzodicycloalkane derivative and a polymorph thereof, and an application thereof. Specifically, the present invention provides a polymorph of benzobicyclic alkane derivative or a pharma
BENZODICYCLOALKANE DERIVATIVE, PREPARATION METHOD AND USE THEREOF
-
Paragraph 0155; 0158, (2019/06/19)
It is provided herein a benzobicycloalkane derivative, and a preparation method and use thereof. In particular, it is provided herein a compound of Formula (I), or a pharmaceutically acceptable salt, stereoisomer or solvate thereof, a preparation method, and a use thereof in preparation of drugs for treating pain.
DEZOCINE ANALOGUE
-
Paragraph 0086; 0089; 0090, (2018/11/27)
Disclosed in the present invention is a Dezocine analogue, and particularly disclosed are compounds represented by formula (I), (II) and (III), a pharmaceutically acceptable salt or tautomer thereof.
A key intermediate for the preparation method of Eptazocine
-
Paragraph 0019-0020; 0022-0023, (2017/11/16)
The present invention discloses a dezocine key intermediate preparation method, 7-methoxy-2-tetralone is used as a starting material for first benzyl-site methylation and then ortho alkylation of the carbonyl group, the dezocine key intermediate can be prepared by three strategies of stepwise synthesis, two-step and one-pot methods. The dezocine key intermediate preparation method has the advantages of simple synthetic route, less steps, high yield simple operation, great reduction of the synthesis cycle, mild reaction conditions, and improvement of the safety of the technology, the low raw material cost and easy industrialization. The preparation cost is greatly reduced by the simple synthesis method, the patient dosage cost is reduced, the national social security spending can be reduced to some extent, and some of the social and economic benefits are produced.
1204-23-5 Process route
5-(4-methoxy-phenyl)-pent-1-yn-3-ol

1204-23-5

1-methyl-7-methoxy-2-tetralone
Conditions
Conditions
Yield

With

bismuth(lll) trifluoromethanesulfonate;

In

1,2-dichloro-ethane;

at 80 ℃; for 1h;

Inert atmosphere

;

Green chemistry

;

77%
4133-34-0

7-methoxyl-2-tetralone

74-88-4

methyl iodide

1204-23-5

1-methyl-7-methoxy-2-tetralone
Conditions
Conditions
Yield

With

N-ethyl-N,N-diisopropylamine;

In

dichloromethane;

at 0 - 20 ℃; for 4.33h;

85%
1204-23-5 Upstream products
30021-91-1

6-methoxy-4-methyl-1,2-dihydronaphthalene

1206-44-6

1,2-Dihydroxy-7-methoxy-1-methyl-tetralin

6836-19-7

7-Methoxy-1-tetralone

4521-28-2

4-(4-Methoxyphenyl)butyric acid
1204-23-5 Downstream products
152564-71-1

(+)-(1S,2R,4aS,10aR)-1,7-bis(hydroxymethyl)-1,4a-dimethyl-1,2,3,4,4a,9,10,10a-octahydro-2,6-phenanthrenediol

152564-71-1

(+)-(1S,2S,4aS,10aR)-1,7-bis(hydroxymethyl)-1,4a-dimethyl-1,2,3,4,4a,9,10,10a-octahydro-2,6-phenanthrenediol

152564-71-1

(-)-(1R,2R,4aR,10aS)-1,7-bis(hydroxymethyl)-1,4a-dimethyl-1,2,3,4,4a,9,10,10a-octahydro-2,6-phenanthrenediol

152564-71-1

(-)-(1R,2S,4aR,10aS)-1,7-bis(hydroxymethyl)-1,4a-dimethyl-1,2,3,4,4a,9,10,10a-octahydro-2,6-phenanthrenediol