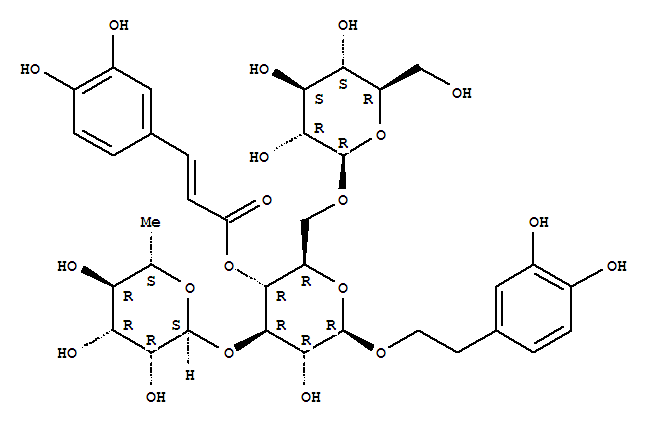 82854-37-3
Product Name:Echinacoside
Molecular Formula:C35H46O20
Purity:99%
Molecular Weight:
Inquiry
Product Details
Appearance:yellowish-brown
High Quality Echinacoside 82854-37-3 White Crystalline Powder In Bulk Supply
Molecular Formula:C35H46O20
Molecular Weight:786.73
Appearance/Colour:yellowish-brown
Boiling Point:1062.7 °C at 760 mmHg
PKA:8.43±0.20(Predicted)
Flash Point:327.8 °C
PSA:324.44000
Density:1.66 g/cm3
LogP:-3.19170
Hot Selling Plant Extract Echinacoside 82854-37-3 In Medicine, High Purity, Fast Delivery, Best Price
Echinacoside (ECH), a natural phenylethanoid glycoside(PhG) in Cistanche tubulosa, is known to modulate inflammation and apoptosis on IC using relevant models.Some results demonstrate that Echinacoside (ECH, C35H46O20, molecular weight: 786.72, Fig. 1a), as a natural polyphenolic compound, could reduce the ovarian cancer progression through inhibition of PI3K/AKT pathway, suggesting that Echinacoside may be a new treatment option for ovarian cancer. It can improve neurodegenerative diseases by regulating target genes or target proteins on abnormal accumulation of Amyloid-β plaques, oxidative stress, apoptosis, and neurotoxicity signaling pathways.
InChI=1S/C35H46O20/c1-14-24(42)26(44)29(47)35(51-14)55-32-30(48)34(49-9-8-16-3-6-18(38)20(40)11-16)53-22(13-50-33-28(46)27(45)25(43)21(12-36)52-33)31(32)54-23(41)7-4-15-2-5-17(37)19(39)10-15/h2-7,10-11,14,21-22,24-40,42-48H,8-9,12-13H2,1H3/b7-4+/t14-,21+,22+,24-,25+,26+,27-,28+,29+,30+,31+,32+,33+,34+,35-/m0/s1
SMILES:C[C@H]1[C@@H]([C@H]([C@H]([C@@H](O1)O[C@@H]2[C@H]([C@@H](O[C@@H]([C@H]2OC(=O)/C=C/c3ccc(c(c3)O)O)CO[C@H]4[C@@H]([C@H]([C@@H]([C@H](O4)CO)O)O)O)OCCc5ccc(c(c5)O)O)O)O)O)O
Echinacoside 82854-37-3 Relevant articles
Echinacoside from Cistanche tubulosa ameliorates alcohol‐induced liver injury and oxidative stress by targeting Nrf2
Yuhao Ding, Yuan Zhang, Zhonghao Wang, Fanle Zeng, Qianzhen Zhen, Huizi Zhao, Jun Li, Taotao Ma, Cheng Huang
Volume37, Issue3 March 2023 e22792
Echinacoside (ECH) is its active constituent and has been found to have various biological effects, including antioxidative stress and anti-inflammatory effects. ECH significantly increased the activity of Nrf2 in vivo and in vitro. Nrf2 knockout may diminish the influence of ECH on ALD.
Extraction of echinacoside from Cistanche tubulosa (Schenk) R. Wight and investigation of its protective effect on liver injury in sepsis rats
Jing LIN, Haoyi YU, Yifan ZHAO, Haoyun FU
Food Sci. Technol 43 • 2023
In conclusion, echinacoside can inhibit the inflammatory response, activate the Nrf2/HO-1 signal pathway, and reduce the oxidative stress, thus alleviating the liver injury in sepsis rats.