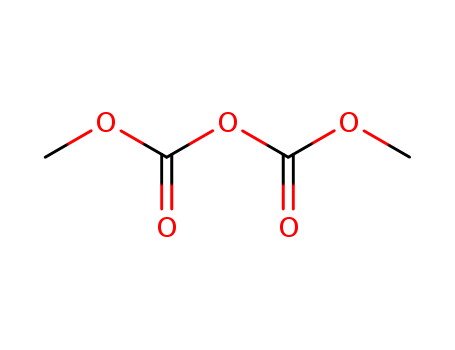 4525-33-1
Product Name:Dimethyl dicarbonate(DMDC)
Molecular Formula:C4H6O5
Purity:99%
Molecular Weight:
Inquiry
Product Details
Top purity Dimethyl dicarbonate(DMDC) 4525-33-1 with reasonable price
Molecular Formula:C4H6O5
Molecular Weight:134.089
Vapor Pressure:1.4mmHg at 25°C
Melting Point:15-17oC
Refractive Index:n20/D 1.392(lit.)
Boiling Point:171.4 °C at 760 mmHg
Flash Point:80 °C
PSA:61.83000
Density:1.243 g/cm3
LogP:0.53580
Dimethyl dicarbonate(DMDC) 4525-33-1 in bulk supply
Dimethyl dicarbonate (DMDC), also known as Viguolin, is a food additive, can be added to a variety of foods as a preservative. Dimethyl dicarbonate (DMDC) is an organic compound possessing antimicrobial activity. The European Union, Australia, and the USA have authorized its use in winemaking, and the CE Regulation No. 606/2009 authorizes the use of DMDC up to a maximum dose of 200 mg/L, but without residues found in the wine on the market. It is a powerful microbial inhibitor by inactivating cellular enzymes (Bartowsky, 2009).
InChI:InChI=1/C4H6O5/c1-7-3(5)9-4(6)8-2/h1-2H3
Dimethyl dicarbonate(DMDC) 4525-33-1 Relevant articles
Effects of dimethyl dicarbonate on improving the aroma of melon spirits by inhibiting spoilage microorganisms
Jiang Zhang, Xiaobin Yu, Yuxia Sun, Xueqiang Guan, Weishuai Qin, Xiang Zhang, Yan Ding, Wenhua Yang, Jianli Zhou
Journal of Food Processing and Preservation Volume46, Issue6 June 2022 e16499
The effects of dimethyl decarbonate (DMDC) on the changes in microorganisms and volatiles were systematically investigated during the fermentation of melon juice. More than 70 volatiles were detected, and most were related to fermentation.
Kinetic study of microbial inhibition by dimethyl dicarbonate and quality attributes of pomegranate juice during cold storage
Saeid Jafari, Komchan Pongsarn, Chawanya Srestasupana, Niracha Wetchasart, Kitipong Assatarakul
LWT Volume 152, December 2021, 112309
This research aimed to study the effect of dimethyl dicarbonate on microbial inhibition kinetic, physiochemical properties and shelf life of pomegranate juice during cold storage at 4 °C. The outcomes of this study can be used as a guideline for the application of dimethyl dicarbonate in beverage and juice products for a better quality of products along with guaranteed safety.
4525-33-1 Process route
79-22-1

methyl chloroformate

4525-33-1

dimethyl dicarbonate
Conditions
Conditions
Yield

With

sodium hydroxide;

triisooctyl amine;

In

water; toluene;

at 17 ℃; for 1.25h;

Product distribution / selectivity

;

Alkaline conditions

;

91%

With

sodium hydroxide;

triisooctyl amine;

In

water; toluene;

at 17 ℃; for 1.25h;

Product distribution / selectivity

;

91%

With

sodium hydroxide;

tridodecylamine;

In

water; toluene;

at 5 - 15 ℃; for 1.16667h;

Product distribution / selectivity

;

Alkaline conditions

;

85%

With

sodium hydroxide;

tridodecylamine;

In

water; toluene;

at 5 - 15 ℃; for 1.16667h;

Product distribution / selectivity

;

85%

With

water; sodium hydroxide;

In

toluene;

at 17 ℃; for 0.333333h;

Reagent/catalyst

;

Temperature

;
75-44-5

phosgene

6482-39-9

sodium methyl carbonate

4525-33-1

dimethyl dicarbonate
4525-33-1 Upstream products
79-22-1

methyl chloroformate

75-44-5

phosgene

6482-39-9

sodium methyl carbonate
4525-33-1 Downstream products
598-55-0

methyl carbamate

15719-64-9

methylammonium carbonate

616-38-6

carbonic acid dimethyl ester

4263-94-9

2,4-dioxo-3-phenyl-oxazolidine-5-carboxylic acid methyl ester