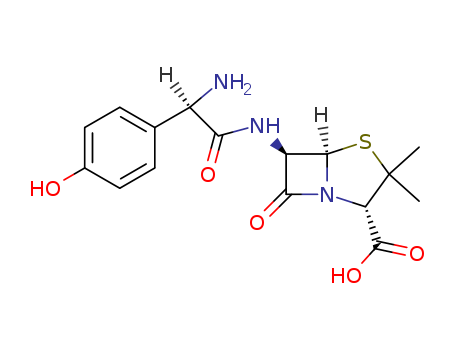 26787-78-0
Product Name:Amoxicillin
Molecular Formula:C16H19N3O5S
Purity:99%
Molecular Weight:
Inquiry
Product Details
Appearance:solid
On Sale, Amoxicillin 26787-78-0 Hot Sale with low price
Molecular Formula:C16H19N3O5S
Molecular Weight:365.41
Appearance/Colour:solid
Vapor Pressure:3.39E-23mmHg at 25°C
Melting Point:140 °C
Boiling Point:743.2 °C at 760 mmHg
PKA:pKa 2.4 (Uncertain)
Flash Point:403.3 °C
PSA:158.26000
Density:1.54 g/cm3
LogP:1.05280
Amoxicillin 26787-78-0 Usage
Amoxicillin is an excellent agent to treat otitis media, bacterial sinusitis, bacterial exacerbations of bronchitis, acute lower-urinary-tract infections, gonorrhea, and typhoid, which is a widely used broad-spectrum antibiotic whose presence in the environment has been widely concerned. Amoxicillin 26787-78-0 is an antibiotic used in the treatment of various bacterial infections. The widespread use of amoxicillin (AMX) has been attributed to its ability to treat some common diseases.
Amoxicillin is a new semisynthetic penicillin which is active in vitro against gram-positive cocci (except penicillin G-resistant Staphylococcus aureus) and most isolates of Proteus mirabilis and Escherichia coli.
InChI:InChI=1/C16H19N3O5S.3H2O/c1-16(2)11(15(23)24)19-13(22)10(14(19)25-16)18-12(21)9(17)7-3-5-8(20)6-4-7;;;/h3-6,9-11,14,20H,17H2,1-2H3,(H,18,21)(H,23,24);3*1H2/t9-,10-,11+,14-;;;/m1.../s1
Amoxicillin 26787-78-0 Relevant articles
Vonoprazan With Amoxicillin or Amoxicillin and Clarithromycin for the Treatment of Helicobacter pylori Infection
Ligang Liu, PharmD and Milap C. Nahata, MS, PharmD
Annals of Pharmacotherapy January 23, 202
Studies assessing the efficacy and safety of vonoprazan with amoxicillin and/or clarithromycin were included and divided into 3 groups based on different comparisons between treatment regimens used in each group.
Gaps in the wall: understanding cell wall biology to tackle amoxicillin resistance in Streptococcus pneumoniae
Paddy S Gibson, Jan-Willem Veening
Current Opinion in Microbiology Volume 72, April 2023, 102261
Amoxicillin (AMX) is a broad-spectrum β-lactam antibiotic, used frequently for the treatment of bacterial respiratory tract infections. We discuss current knowledge gaps in the synthesis and translocation of peptidoglycan and teichoic acids, major constituents of the pneumococcal cell wall and critical to AMX activity.
26787-78-0 Process route
551-16-6,1079-37-4,3115-55-7,21794-93-4,145920-51-0

6-aminopenicillanic acid
26787-78-0,81030-75-3

amoxicillin

760-67-8

2-ethylhexanoic acid chloride
C31H29N3O7S
26787-78-0,81030-75-3

amoxicillin
Conditions
Conditions
Yield

With

palladium 10% on activated carbon; hydrogen;

In

methanol; water;

for 3h;

62%
26787-78-0 Upstream products
551-16-6

6-Aminopenicillanic Acid

37763-23-8

D-2-p-hydroxyphenylglycine methyl ester

57591-61-4

methyl (R)-2-amino-2-(4-hydroxyphenyl)acetate hydrochloride

75-21-8

oxirane
26787-78-0 Downstream products
59367-63-4

6β-[(R)-2-formylamino-2-(4-hydroxy-phenyl)-acetylamino]-penicillanic acid

69414-41-1

6β-[(R)-2-(6-{4-[bis-(2-hydroxy-ethyl)-sulfamoyl]-phenyl}-2-oxo-1,2-dihydro-pyridine-3-carbonylamino)-2-(4-hydroxy-phenyl)-acetylamino]-penicillanic acid