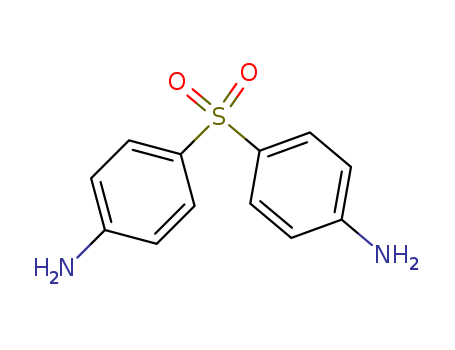 80-08-0
Product Name:4,4'-Diaminodiphenylsulfone
Molecular Formula:C12H12N2O2S
Purity:99%
Molecular Weight:
Inquiry
Product Details
Appearance:Off-white crystalline solid
Hot Sale, 80-08-0 4,4'-Diaminodiphenylsulfone Good Supplier In China
Molecular Formula:C12H12N2O2S
Molecular Weight:248.305
Appearance/Colour:Off-white crystalline solid
Melting Point:175-177 °C(lit.)
Refractive Index:1.5950 (estimate)
Boiling Point:511.7 °C at 760 mmHg
PKA:pKb 13.0(at 25℃)
Flash Point:263.2 °C
PSA:94.56000
Density:1.361 g/cm3
LogP:3.92700
4,4'-Diaminodiphenylsulfone 80-08-0 Usage
4,4′-diaminodiphenylsulfone, is the most common drug prescribed to treat Hansen disease patients. 4,4'-diaminodiphenylsulfone (DDS, dapsone) has been used to treat several dermatologic conditions, including Hansen disease, for the past several decades, its mode of action has remained a topic of debate. In addition to its antibacterial activity, DDS has been reported to be involved in other cellular processes that occur in eukaryotic cells.
Synthesis Reference(s)
Synthesis, p. 640, 1981 DOI: 10.1055/s-1981-29557
Fire Hazard
4,4'-Diaminodiphenylsulfone is probably combustible.
InChI:InChI=1/C12H10O2S.C7H6N2O5/c13-15(14,11-7-3-1-4-8-11)12-9-5-2-6-10-12;1-4-2-5(8(11)12)3-6(7(4)10)9(13)14/h1-10H;2-3,10H,1H3
80-08-0 Relevant articles
In situ synthesis of high-performance 4,4′-diaminodiphenylsulfone modified oleo-alkyd nanocomposite coatings: role of hybrid nanofillers on physico-mechanical, hydrophobic and corrosion protective performance
Mohammad Irfan Bakshi and Sharif Ahmad
New Journal of Chemistry, 2020
Tung oil monoglyceride (TMG), 4,4′-diaminodiphenylsulfone modified (DDS-TO-alkyd) polypyrrole enveloped cerium oxide (PPy-PSCeO2) nanofiller dispersed alkyd nanocomposites (alk-DDS-PPy-PSCeO2-x) were synthesized using pyromellitic dianhydride through an eco-friendly, solvent-less and in situ approach.
4,4′‐Diaminodiphenylsulfone; an efficient co‐additive in dye‐sensitized nanocrystalline TiO2 solar cells
Malihe Afrooz, Omid Bagheri, Hossein Dehghani
Applied Organometallic Chemistry Volume34, Issue1 January 2020 e5284
The effect of 4,4′-diaminodiphenylsulfone (DADPS) as a co-additives in iodide/triiodide redox electrolyte on the performance of dye-sensitized solar cell based on the 2-cyano-3-(4-(diphenylamino)phenyl)acrylic acid (TPA) and 2-cyano-3-(2΄-(5΄,10΄,15΄,20΄- tetraphenylporphyrinato Zinc (II)yl) acrylic acid (Zn-1) dyes have been investigated.
80-08-0 Process route
101-59-7

4-amino-4'-nitrodiphenyl sulfide

80-08-0

dapsone
Conditions
Conditions
Yield

4-amino-4'-nitrodiphenyl sulfide;

With

hydrogen; toluene-4-sulfonic acid;

palladium 10% on activated carbon;

In

methanol; water;

at 50 ℃; under 3750.38 Torr;

With

ammonia;

In

water;

Product distribution / selectivity

;

82%

4-amino-4'-nitrodiphenyl sulfide;

With

methanesulfonic acid; hydrogen;

5%-palladium/activated carbon;

In

methanol; water;

at 50 ℃; for 4h; under 3000.3 Torr;

With

ammonia;

In

water;

at 50 ℃;

Product distribution / selectivity

;

80%

Multi-step reaction with 4 steps

1: tin; aqueous hydrochloric acid / Hydrogenation

2: acetic acid

3: potassium dichromate; aqueous sulfuric acid; acetic acid

4: aqueous hydrochloric acid

With

hydrogenchloride; potassium dichromate; tin; sulfuric acid; acetic acid;

Multi-step reaction with 4 steps

1: sulfur; sodium sulfide nonahydrate / 130 - 135 °C / Hydrogenation

2: ethanol / 40 °C

3: sodium dichromate; aqueous sulfuric acid

4: aqueous hydrochloric acid

With

hydrogenchloride; sodium sulfide; sodium dichromate; ethanol; sulfuric acid; sulfur;
80-07-9,30605-10-8,85228-26-8,36313-66-3

4,4'-dichlorodiphenyl sulphone

80-08-0

dapsone
Conditions
Conditions
Yield

With

ammonium chloride;

In

ethanol;

for 5h;

Reflux

;

91.9%

With

ammonia; water; copper; copper(I) bromide;

at 200 ℃;

With

ammonia; copper(II) sulfate; ethylene glycol;

at 245 ℃;

With

ammonia; water; copper(II) sulfate;

at 230 - 240 ℃;

With

ammonia; water;

at 200 ℃;

With

ammonium hydroxide; copper(I) bromide;

at 200 ℃; for 40h;
80-08-0 Upstream products
119-59-5

4,4'-sulfinyldianiline

80-09-1

4,4'-sulfonediphenol

80-07-9

4,4'-dichlorodiphenyl sulphone

1156-50-9

4-nitrophenyl sulfone
80-08-0 Downstream products
21839-05-4

bis-[4-(2-hydroxy-ethylamino)-phenyl]-sulfone

428-16-0

bis-[4-(3-fluorosulfonyl-benzoylamino)-phenyl]-sulfone

102322-06-5

N-(2-piperidino-ethyl)-4-sulfanilyl-aniline

111666-81-0

4,4'-bis-(2-pyridinethiocarboxamido)-diphenylsulfone