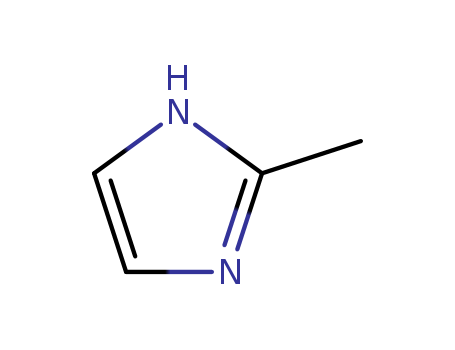 693-98-1
Product Name:2-Methylimidazole
Molecular Formula:C4H6N2
Purity:99%
Molecular Weight:
Inquiry
Product Details
Appearance:white to light yellow crystalline powder
Factory sells 2-Methylimidazole 693-98-1 in stock, superior manufacturer
Molecular Formula:C4H6N2
Molecular Weight:82.105
Appearance/Colour:white to light yellow crystalline powder
Vapor Pressure:<1 mm Hg ( 0 °C)
Melting Point:142-143 °C(lit.)
Refractive Index:1.523
Boiling Point:267 °C at 760 mmHg
PKA:14.44±0.10(Predicted)
Flash Point:144.9 °C
PSA:28.68000
Density:1.062 g/cm3
LogP:0.71810
2-Methylimidazole 693-98-1 Usage
2-Methylimidazole is an inexpensive commercial reagent, which is a white to light yellow crystalline powder with an amine-like odor. It is a monomethylated imidazole that can be used as a building block in the preparation of a wide range of biologically active compounds. 2-Methylimidazole as well as other imidazoles can be use as catalyst for refolding of enhanced coloured fluorescent protein. 2-Methylimidazole has been identified as a byproduct of fermentation and is detected in foods and mainstream and side-str eam tobacco smoke. The competitive coordination of 2-methylimidazole promoted the generation of FeN active sites and greatly improved its ORR electrocatalytic performance.
Hazard
Possible carcinogen.
Flammability and Explosibility
Notclassified
Purification Methods
Recrystallise 2-methylimidazole from *benzene or pet ether. The picrate has m 215o (from H2O). [Beilstein 23 III/IV 594, 23/5 V 35.]
InChI:InChI=1/C4H6N2/c1-4-5-2-3-6-4/h2-3H,1H3,(H,5,6)
693-98-1 Relevant articles
2D Zn-Porphyrin-Based Co(II)-MOF with 2-Methylimidazole Sitting Axially on the Paddle–Wheel Units: An Efficient Electrochemiluminescence Bioassay for SARS-CoV-2
Yi-Xuan Li, Jing Li, Dunru Zhu, Ju-Zheng Wang, Guo-Fang Shu, Junji Li, Sheng-Li Zhang, Xue-Ji Zhang, Serge Cosnier, Hai-Bo Zeng, Dan Shan
Advanced Functional Materials Volume32, Issue48 November 24, 2022 2209743
In this study, a porphyrin-based heterobimetallic 2D metal organic framework (MOF), [(ZnTCPP)Co2(MeIm)] (1), is successfully self-assembled from the zinc(II) tetrakis(4-carboxyphenyl)porphine (ZnTCPP) linker and cobalt(II) ions in the presence of 2-methylimidazole (MeIm) by a facile one-pot reaction in methanol at room temperature.
2-Methylimidazole assisted synthesis of nanocrystalline shell reinforced PPy hydrogel with high mechanical and electrochemical performance
Shunhe Tang, Chuying Yu, Xinxin Liu, Danchen Fu, Wentao Liao, Feng Xu, Wenbin Zhong
Paragraph 0016; 0042-0046; 0050-0054; 0058-0061; 0066-0070, (2020/07/15)
Herein, a novel and facile strategy is proposed to fabricate nanocrystalline reinforced PPy hydrogels (m-PPy) via one-step oxidative polymerization of pyrrole and 2-methylimidazole (MeIm) using FeCl3 as oxidant.
693-98-1 Process route
930-61-0

2,4-dimethyl-2-imidazoline

67-66-3,8013-54-5

chloroform
14331-54-5

2,4-dimethylpyrimidine

4994-86-9

4-chloro-2-methylpyrimidine

693-98-1

2-methylimidazole

75712-73-1

5-Chloro-2,4-dimethylpyrimidine
Conditions
Conditions
Yield

at 550 ℃;

Yield given. Further byproducts given. Yields of byproduct given. Title compound not separated from byproducts

;
930-61-0

2,4-dimethyl-2-imidazoline

67-66-3,8013-54-5

chloroform
123-32-0

2,5-dimethyl-pyrazine

4994-86-9

4-chloro-2-methylpyrimidine

693-98-1

2-methylimidazole

75712-73-1

5-Chloro-2,4-dimethylpyrimidine
Conditions
Conditions
Yield

at 550 ℃;

Yield given. Further byproducts given. Yields of byproduct given. Title compound not separated from byproducts

;
693-98-1 Upstream products
151-56-4

ethyleneimine

534-26-9

lysidine

616-47-7

1-methyl-1H-imidazole

21202-52-8

1-ethyl-2-methylimidazole
693-98-1 Downstream products
30821-75-1

2-methyl-4-(p-bromophenylazo)-1H-imidazole

68886-91-9

2-methyl-4-(phenylazo)-1H-imidazole

1739-84-0

1,2-dimethyl-1H-imidazole

36432-31-2

1,2,3-trimethylimidazolium iodide