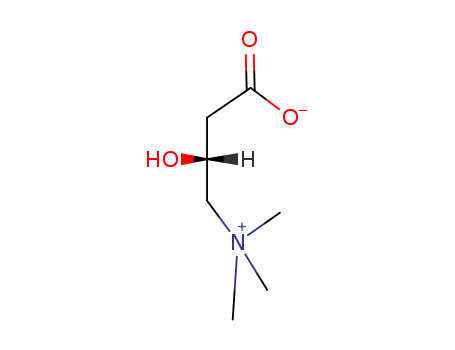 541-15-1
Product Name:L(-)-Carnitine
Molecular Formula:C7H15NO3
Purity:99%
Molecular Weight:
Inquiry
Product Details
Appearance:white crystalline powder
Buy 541-15-1 L(-)-Carnitine 99% with factory price, Good Supplier In China
Molecular Formula:C7H15NO3
Molecular Weight:161.201
Appearance/Colour:white crystalline powder
Melting Point:197-212 °C(lit.)
Refractive Index:-32 ° (C=1, H2O)
Boiling Point:287.5°C (rough estimate)
PKA:3.80(at 25℃)
PSA:60.36000
Density:0.64 g/cm3
LogP:-1.80650
L(-)-Carnitine 541-15-1 Usage
L-carnitine, also known as L-carnitine and vitamin BT, the chemical formula is C7H15NO3, the chemical name is (R)-3-carboxyl-2-hydroxy-n, N, n-trimethylammonium propionate hydroxide internal salt, and the representative drug is L-carnitine. It is a kind of amino acid that promotes the conversion of fat into energy. L-carnitine is essential for fatty acid metabolism and proper mitochondrial function. It is an amino acid derivative naturally produced by the body and obtained from the diet, especially from red meat. Clinical trials have shown the effectiveness of L-carnitine in relieving fatigue. Carnitine supplementation is actively used for the treatment of CFS, fatigue caused by chemotherapy, fatigue in the elderly, and fatigue caused by different neurological diseases .
Definition
ChEBI: The (R)-enantiomer of carnitine.
Brand name
Carni tor (Sigma-Tau).
Therapeutic Function
Appetite stimulant
Purification Methods
The S(L) isomer is levocarnitine, Vitamin B7. The R or S isomers crystallise from EtOH/Me2CO (hygroscopic). The R or S hydrochlorides crystallise from hot EtOH or EtOH/Et2O and have m 142o(dec). The RS-isomer crystallises from hot EtOH (hygroscopic). The RS hydrochloride crystallises in needles from hot EtOH and has m 196o(dec). [(±) Mazzetti & Lemmon J Org Chem 22 228 1957, Beilstein 4 H 513, 4 I 548, 4 II 937-8, 4 III 1632-5, 4 IV 3185.]
InChI:InChI=1/C7H15NO3/c1-8(2,3)5-6(9)4-7(10)11/h6,9H,4-5H2,1-3H3/t6-/m1/s1
541-15-1 Relevant articles
Effects of L-carnitine supplementation on glucolipid metabolism: a systematic review and meta-analysis.
Yanfei Li, Yuchen Xie, Chensheng Qiu,Bowen Yu,Fangzheng Yang,Yuanchao Cheng,Weizhen Zhong and Junhua Yuan
Food & Function
L-carnitine supplementation has been utilized against glucolipid metabolism disruption. The current meta-analysis revealed that L-carnitine may have favorable effects on glucolipid profile, especially insulin, FBG, HOMA-IR, TG, TC, LDLc, and ALT levels.
Liver Lipidomics Analysis Revealed the Novel Ameliorative Mechanisms of L-Carnitine on High-Fat Diet-Induced NAFLD Mice
C Sun, Y Guo, P Cong, Y Tian, X Gao
Nutrients 2023, 15(6), 1359
The beneficial effects of L-carnitine on non-alcoholic fatty liver disease (NAFLD) were revealed in previous reports. Our study provides further evidence that L-carnitine treatment can effectively alleviate NAFLD in HFD-fed mice.
The Association of Circulating L-Carnitine, γ-Butyrobetaine and Trimethylamine N-Oxide Levels with Gastric Cancer
Ilmārs Stonāns ,Jelizaveta Kuzmina ,Inese Poļaka ,Solveiga Grīnberga ,Eduards Sevostjanovs ,Edgars Liepiņš ,Ilona Aleksandraviča ,Daiga Šantare ,Arnis Kiršners ,Roberts Škapars ,Andrejs Pčolkins ,Ivar
Diagnostics 2023, 13(7), 1341
Our study aimed to evaluate the association between gastric cancer (GC) and higher concentrations of the metabolites L-carnitine, γ-butyrobetaine (GBB) and gut microbiota-mediated trimethylamine N-oxide (TMAO) in the circulation. Our findings demonstrate the potential role of L-carnitine, GBB and TMAO in GC and suggest metabolic differences between genders.
541-15-1 Process route
4-(chloromethyl)oxetane-2-one

75-50-3

trimethylamine

24587-49-3

(2E)-4-hydroxybut-2-enoic acid

541-15-1,44985-79-7

L-carnitine

406-76-8,461-06-3,541-14-0,541-15-1,44985-79-7

(S)-carnitin
Conditions
Conditions
Yield

With

sodium hydroxide;

In

water;

at 0 - 20 ℃; for 2h;

Product distribution / selectivity

;
4-(chloromethyl)oxetane-2-one

75-50-3

trimethylamine

24587-49-3

(2E)-4-hydroxybut-2-enoic acid

541-15-1,44985-79-7

L-carnitine

406-76-8,461-06-3,541-14-0,541-15-1,44985-79-7

(S)-carnitin
Conditions
Conditions
Yield

With

sodium hydroxide;

In

water;

at 0 - 20 ℃; for 2h;

Product distribution / selectivity

;
541-15-1 Upstream products
461-06-3

CARNITINE

2788-28-5

(2R)-(-)-3-cyano-2-hydroxypropyltrimethylammonium chloride

133039-08-4

Toluene-4-sulfonate((R)-3-carboxy-2-hydroxy-propyl)-trimethyl-ammonium;

90835-93-1

(R)-4-Bromo-3-hydroxy-butyric acid octyl ester
541-15-1 Downstream products
6919-91-1

lauroyl carnitine chloride

162067-50-7

(-)-O-Butyryl-carnitin

162067-53-0

(-)-O-Caproyl-carnitin

28330-02-1

o-palmitoyl-L-carnitine hydrochloride